Presentations at Trade shows, Expositions and Fairs:

---
Tomo Trading has participated in a series of country fairs and exhibitions and trade shows in order to test and achieve contact with the market.

The framework has been a 3 x 3 or 9 sq. meter stand - either indoors or in a tent. In adittion a trailer carries the stand module and products.

Stands at county fairs: Etne, Sandane, Varhaug, Brokelandsheia, Jæren, Otta, Stryn, Odda, Voss, etc. .

Stands at trade shows : - Ålesund, Haugesund, Lillestrøm.

Presentation of net-stores and markets: Samarbeidarådet for Sunnhordland.

---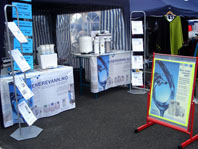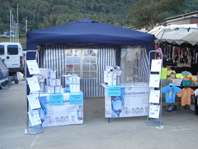 Mobility: Use a caraven to get around - deliver products and give presentations.

Markets in Brokelandsheia, outside Kragerø (tv)



and market in Otta, Ottamartnaden (th).

Participation at county fairs has led us to know more about the quality of drinking water around Norway than most people.
Page name: "Markets & shows".
| SiteMap |
© Tomo Trading - Tor Moltu - Fosseveien 8-12 - 1792 Tistedal - Halden, Norway

---
Phone: (+47) 416 73 666 • e-mail: tor@tomotrading.no